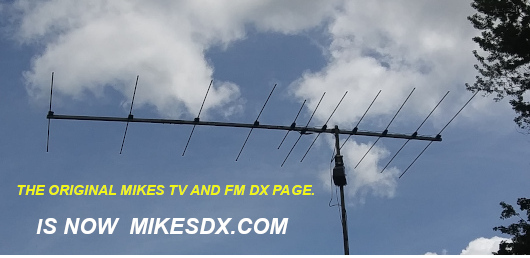 ON THE WEB SINCE 1999!
According to the stats I get, the filter mods pages are some of the most popular pages on this site. I have no idea why. I thought that stuff went obsolete years ago, but I guess not. Folks, remember to click on the little red square on the top right of this page. Doing that brings up a menu with a few items that are not shown anywhere else on this site. (2/4/23)
THE 2022 SKIP SEASON - FINAL RESULTS
The 2022 skip season is history. I logged around 35 new stations this summer via Es. Nothing really exciting was heard. I heard two or three new stations from Nassau, Bahamas. Also METV on 87.75 was Chicago. I spent a bit of time below 88mhz which got me numerous receptions of Memphis, Miami and Chicago on the old channel 6 audio frequency. No TAs were heard yet. Maybe next year. There were a couple of TA events (Azores and Portugal on FM) but my timing was all wrong.
I have uploaded my raw written logs for 2022. You'll find those in the Raw Logs page on the right menu.
For my situation, I found that my best equipment configuration is the Airspy Discovery HF+ with the Bolin Phase Box. The RSPDuo does overload a bit and the noise floor seems higher when the antenna swings west and the Airspy just doesn't overload. Plus it has the FM canceller if I need it. For antennas I'm using the APS-13 but for phasing I'm using my Channel Master Probe 9. Honestly, after using the Bolin box since early summer I can phase out stations as easily as with the RSP Duo. If the Airspy should ever die, at least I have the RSPDuo to fall back on.
2004 Highband Es Photos, CM Stereo Probe 9 Specs and those good 'ole Tuner Filter Mods are back in the red menu above, just click the red square. You can also find my popular I HEARD IT ON AM page with AM radio audio clips from my navy days in Morocco and Iceland back in 1967-1969 when AM Top 40 radio was interesting and fun.
Hello! My name is Mike and I'm retired. I've been DXing in one form or another for around 55 years. I spent 35 years in the office copier industry as a technician for Minolta, Saxon, Savin, Ricoh and (my favorite) Canon office copiers. I also serviced Canon fax machines and IBM selectric typewriters, Anyone remember them? Now I spend my time playing with Linux distros on my computers and searching for weak, distant AM and FM radio signals (and DTV signals, too) using my SDRs.

I'm a member of the WTFDA, which is a dx club specializing in TV and FM DXing. I've published their bulletin called the VHF-UHF Digest for over 20 years and still do. I also am the one responsible for the creation of the WTFDA FM Radio Station Database in 2013, which undoubtedly is the best thing I've ever done for the club and the FM DX hobby in general. You can thank me now.
I have over 3,100 FM stations logged, around five of which are double-hop Es receptions from Mexico, the longest being around 2,100 miles from the port of Veracruz. On television I've had double hop analog Es with video from Nicaragua, Colombia and Venezuela, and in Mexico from Monterrey, Mexicali and Guadalajara on lowband (among others). I've never seen analog Es from Europe although I did have a carrier from Iceland once and the carrier many times from Madrid on E2 on an Icom R75. And I'm old enough to remember hearing BBC audio on 48mhz by F2 skip using a cheap 30-50mhz radio with a 20' run of wire in an upstairs bedroom when I was around 16. Time flies.
To comment on anything in this site, send an email to mbuga46@gmail.com.