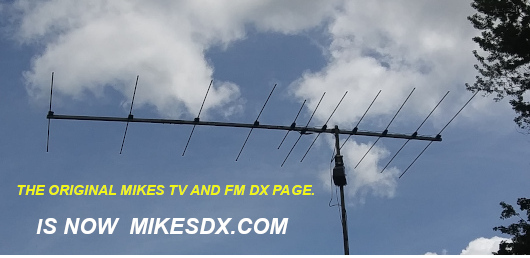 ON THE WEB SINCE 1999!
THE 2022 SKIP SEASON HAS BEGUN!
The first skip of the season happened here on May 7th. I found skip into FM around 3:30 in the afternoon and it went off and on until about 6:50pm. Almost all of it was from Mississippi. I noticed DTV decodes on channel 2 from WHDF in Florence, AL at 4:25 and WTVF channel 5 Nashville at 6:40pm. I noticed Es openings on June 2 1145am to 1330 and June 3 from 1900 to 2030. I am posting my 2022 DX in detail over on the right at 2022 TV and FM DX and I am now caught up with all my logs through June 28th. There were more openings than I thought.
NEW FOR 2022!
Welcome to Mikes DX! This is my first venture from HTML to Wordpress. It has a learning curve so bear with me. I will eventually get much of what was on the old site over to this site but it will take a while.
2004 Highband Es Photos, CM Stereo Probe 9 Specs and those good 'ole Tuner Filter Mods are back in the red menu above, just click the red square. You can also find my popular I HEARD IT ON AM page with AM radio audio clips from my navy days in Morocco and Iceland back in 1967-1969 when AM Top 40 radio was interesting and fun.
Hello! My name is Mike and I'm retired. I've been DXing in one form or another for around 55 years. I spent 35 years in the office copier industry as a technician for Minolta, Saxon, Savin, Ricoh and (my favorite) Canon office copiers. I also serviced Canon fax machines and IBM selectric typewriters, Anyone remember them? Now I spend my time playing with Linux distros on my computers and searching for weak, distant AM and FM radio signals (and DTV signals, too) using my SDRs.

I'm a member of the WTFDA, which is a dx club specializing in TV and FM DXing. I've published their bulletin called the VHF-UHF Digest for over 20 years and still do. I also am the one responsible for the creation of the WTFDA FM Radio Station Database in 2013, which undoubtedly is the best thing I've ever done for the club and the FM DX hobby in general. You can thank me now.
I have over 3,100 FM stations logged, around five of which are double-hop Es receptions from Mexico, the longest being around 2,100 miles from the port of Veracruz. On television I've had double hop analog Es with video from Nicaragua, Colombia and Venezuela, and in Mexico from Monterrey, Mexicali and Guadalajara on lowband (among others). I've never seen analog Es from Europe although I did have a carrier from Iceland once and the carrier many times from Madrid on E2 on an Icom R75. And I'm old enough to remember hearing BBC audio on 48mhz by F2 skip using a cheap 30-50mhz radio with a 20' run of wire in an upstairs bedroom when I was around 16. Time flies.
To comment on anything in this site, send an email to mbuga46@gmail.com.